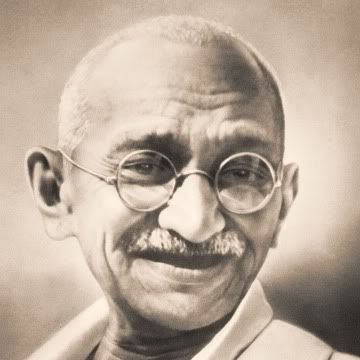 Mahatma Gandhi 2.10.1869 - 30.1.1948
Gandhi who? Sardar who? Shastri who?

30th January 2010 is the 62nd Death Anniversary of the greatest Indian in recent history, Mahatma Gandhi.

It is time to remember him. It is also necessary to remember another giant of a man Sardar Vallabhbhai Patel as well as Lal Bahadur Shastri, the third Prime Minister of India. By coincidence, all these three worthy sons of India were born in the month of October. While Mahatma Gandhi and Shastri died in the month of January, Sardar died in December.
Sardar Vallabhbhai Patel 31.10.1875-15.12.1950
Lal Bahadur Shastri 2.10.1904 - 10.1.1966

These three true Leaders, models of simplicity and अपरिग्रह, were expected to be the role models for the countrymen in terms of morality in public life.

As the people look back in time and look at the present times, sadly the memories of these three Leaders and other such leaders of earlier years appear to be fading and instead of looking up to men like them, the people seem to be looking up to a new breed of polticians - the unscrupulous, the avaricious and the downright corrupt politicians as the new Role Models - or Rule Models. This new breed of politician-leaders has hardly anything in common with their worthy predecessors except, perhaps, that some of them still wear Khadi.

These are the examples of some such "worthy" political leaders of the present time.
Pawar
Jagan and YSR Reddy
Lalu Prasad
Madhu Koda
Mayawati

Praful Patel

A. Raja
Deve Gowda

Mulayam Singh
Jayalalitha

Amarinder Singh
T.R.Baalu

With a Learner Licence
Yeddyurappa
Sukhbir Badal


The selection of these distinguished persons is naturally based on the larger public perception and does not claim to be complete as the list is constantly growing and bound to grow. It is as subjective as the list of Padma Awardees.

It is possible that a politician or his admirers or detractors may feel that he should not have been excluded from this Gallery of Illustrious Politicians. If anyone has been inadvertently, fairly or unfairly left out, his name could be suggested in the Comments Section for inclusion in the zone of consideration, based on his success in following the Credo of the New Politicians' Class.
Carpe Omnia: Take it all, seize everything
Pecunia vincit omnia : Money conquers all
In lieu of a C.V., relevant web references/links detailing their "achievement" should be adequate. Let the readers then consider whether the person is "worthy" enough or not.
Vultures and Hyenas Waiting
The misfortune of this country will end only if we, the people, decide to banish the vermin, vultures and despicable parasites. No manna will fall nor any heavenly forces intervene for this and the people will themselves have to act. Only when they are effectively hounded out from political life and ostracized in social life then can we say even with half-conviction that:
Saare Jahan Se Achha
सारे जहाँ से अच्छा, हिंदोस्ताँ हमारा