The blasts that happened in quick succession over two days, 26th and 27th July, 2008, have shaken the confidence of the people in the Govt., whether Central or State, being able to protect their lives and thwart the evil designs of the anti-national elements.

This is a time for serious reflection and deep thinking to decide what can be done to eliminate the scourge of terrorism.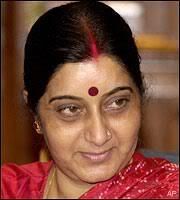 In this background, the statement made by Sushma Swaraj of the BJP in a press conference that "The blasts are a conspiracy to divert attention from the cash-for-votes scandal" as they have taken place in the BJP ruled States within a few days of the Trust Vote, is a pernicious attempt to bring crass politics into a serious issue. All right thinking persons will justifiably feel that these politicians are trying to stir up trouble by bringing up such far fetched and incredible theories. If at all Swaraj had any proof or was hoping that the 'truth will out' as stated by her, she should have waited for that to happen rather than making such a wild statement. Although Arun Jaitley softened the statement by saying that he saw it as a much wider conspiracy unrelated to any political party, this does not detract from BJP's effort to sensationalize the issue without basis.

To be fair to the Govt. and the Congress in particular, this time round, they had behaved in a restrained and responsible manner fully recognizing the sensitivity of the matter. Apart from giving out subtle hints about the State Govt.'s responsibility, they had scrupulously avoided saying anything that would divert attention and bring the issue on the political football field.

Swaraj's baseless and irresponsible statement, therefore, needs to be condemned and the BJP's blatant effort to politicize the issue, for which there is no need, is bound to be viewed by the people with contempt.
सारे जहाँ से अच्छा, हिंदोस्ताँ हमारा