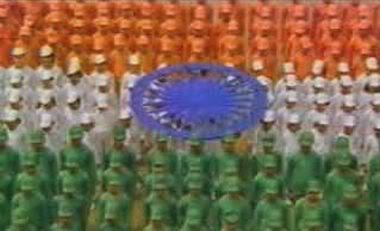 One of the real gems promoted by Doordarshan, the Government TV channel was the video
"Mile Sur Mera Tumhara"
which was first telecast on 15th August 1988. Doordarshan has been performing a yeoman service for years before the plethora of new commercially motivated television channels made their appearance. This song and video are one of the all time great contributions by Doordarshan for the cause of national integration.
The song quickly became extremely popular and at that time and even now, whenever the song is heard or the video seen, it overwhelms the minds of the people, choking them with emotions for the country that they want to be truly great, not just in hyperbole.
The video was produced by Kailash Surendranath for Lok Seva Sanchar Parishad, the lyric written by Piyush Pande now as then with the advertising agency Ogilvy & Mather in India. The music was composed by Louis Banks (or Ashok Patki?) and the concept was by Suresh Mullick. It made use of the same wordings in 14 languages other than Sanskrit and featured celebrities from various walks of life including the legendary Bhimsen Joshi and M. Balamuralikrishna who also lent their voices to the magical composition. More details can be found
here
in a very good article.
The original video and the song can be seen and heard on the following links:
Video Link
here
Audio Link
here
For those who wish to hear the song here is the recording in 24 kbps.
Phir Mile Sur….

An initiative that deserves compliments is the attempt to re-create the sentiments of the original in the new video Phir Mile Sur which is being telecast on 26th January 2010. Glimpses of the video show that those who thought of and executed the new production have tried to do justice to the theme. The music has been set in the present context and the visuals are using the present day celebrities, although rather sadly, the film personalities get the limelight. The new creation is also nice and may, in time, evoke similar emotions as felt by those in whose minds the original creation - the song as well as the visuals - has been so indelibly etched.
See the video:
here

More such initiatives to unite the people are needed especially as even in the 60th year of the republic, the so-called leaders who run the show are failing the people and all is not yet well.
सारे जहाँ से अच्छा, हिंदोस्ताँ हमारा