In the last few years, agriculture has suffered seriously due to a combination of apathy, indifference and lack of adequate attention by the Govt. This is largely seen as a personal failure of the Agriculture Minister, Sharad Pawar. (see related article)

Chidambaram has cited this as one of the reasons for the Govt.'s failure to manage the situation(see here) and even the Congress party by a resolution called for "better agricultural policies". As a result of the situation which has aggravated in the last few years, the Govt. has been obliged to commit from the public treasury, over Rs. 700 billion towards writing off loans given to farmers.

The country had to import large huge quantities of sub-standard wheat due to inadequate procurement but ostensibly to create a so-called strategic reserve. On the other hand, the situation within the country remains uncertain. A famine-like situation prevails once again in key states such Maharashtra. There are protests in various parts of the country over non-availability of fertilizers and seeds.

Here are some pictures which highlight the present situation.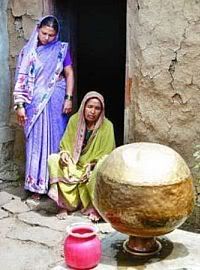 Results of the earlier famine
Waiting for the rain Gods - year after year
Food and Fertilizer warehouses
Finally...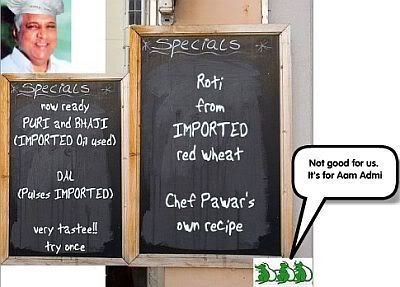 Chef not responsible for price, quality, contamination, or anything else
सारे जहाँ से अच्छा, हिंदोस्ताँ हमारा